In this blog post, I would like to reflect on my insights of the last few years and explain why future-oriented production requires much more than digitizing paper and transferring PDFs to tablets. I want to show that a paradigm shift must take place, driven by companies, employees and technology providers working together, to successfully set up the smart factory of the future for the long term.
Leveraging change for a paradigm shift
Since my time at the Fraunhofer Institute and now for over four years as founder of cioplenu GmbH, I, Benjamin Brockmann, have been working with executives and employees from a wide range of manufacturing industries on a daily basis. Through discussions and on-site visits to manufacturing facilities, I have been able to continuously learn about the diversity of production processes and ways of working. Interacting with different personalities and roles, such as production managers, team leaders in the quality department or maintenance staff, shows me how differently and at the same time professionally companies have established processes and how differently employees work in production-related areas of the company.
Their digitization initiatives are as multifaceted as the companies themselves. Terms like smart factory, paperless factory, digital twin, AI, M2M communication, or Quality 4.0 are on everyone's lips. An enormously important aspect of industrial digitization, which has become particularly solidified for me, is the networked work of operational employees along adaptive processes.
An interplay of change and adaptive processes
In the following, I would like to discuss three key messages and share my thoughts. Adaptive processes will make a huge contribution to the smart factory by freeing up operational staff, making processes more efficient and secure, and democratizing data collection and use on the shop floor. In what follows, I will discuss the following three messages in detail:
The industry is changing and the prevailing macro trends demand a rethinking of how operational staff are engaged in the manufacturing environment

Software plays a critical role in this paradigm shift, the core of which is about adaptive processes

Interaction between technology providers, user companies and service providers is necessary to accelerate the change
Macro trends demand a rethink in the industry
Globalization, demographic change and digitalization have had a major impact on our society not just since yesterday. And industry is also facing a strong influence from these factors. After all, they have a significant impact on productivity and efficiency in manufacturing companies. The employee-related effects of these macro trends are:
1. Operational complexity in manufacturing processes is growing. Successively shorter product life cycles and an increasing number of variants as a result of global competition are increasing the requirements for employee-managed processes. Finally, an increasing number of product variants also means an increasing variety of assembly operations, test processes or setup operations.
2. The shortage of skilled workers is increasing as a result of the academization and urbanization of society. Demographic change is hitting companies outside metropolitan areas in particular; after all, qualified employees are becoming scarce and the workload is increasing. Companies must therefore ensure that employees focus on the essential, value-adding activities that cannot be automated. Against the backdrop of increasing complexity, this leads to an additional aggravation of the situation.
3. The digitization efforts of recent years often lead to data silos, increasing heterogeneity of system landscapes and growing process complexity. For employees, this means a certain digital isolation. Instead of simplifying daily work, digitization has thus often brought additional challenges.
Consequence of macro trends: work complexity and inefficiency
The macro trends show their effect directly in the operational workforce: "work complexity" is continuously increasing. The reality on the shop floor differs greatly from the target state of a networked workforce:
For example, employees on the shop floor will still spend a lot of time in 2021 searching for, printing, and archiving process-relevant documents (checklists, work instructions, logs). Instead, they should be enabled to allocate their time to the actual work processes and thus perform them on time and with consistent or increasing quality.
Employees should be empowered to generate real-time data on the spot and provide it to management to monitor and control shopfloor processes. Instead, content from paperbased protocols is manually entered into an Excel spreadsheet in the evening, then the paper sheet is scanned and filed.
Instead of agile adaptation of processes, legacy processes are often continued to be used because adaptation in the systems seems too costly.
Instead of a shared knowledge cloud available to all employees to perform complex processes, companies are still often dependent on the tacit knowledge of individual employees and solve incidents through personal contacts and bidirectional communication.
In order for the employee to become a central success factor in the smart factory, the worker should be accompanied through the work process in an agile manner and receive precisely tailored assistance and suggestions for the work process. In the event of problems, they should be able to call up knowledge from the entire organization, regardless of availability of individuals, location or time of day. With a clear focus on the relevant activities, the employee can always contribute to collecting on-site data and making it usable.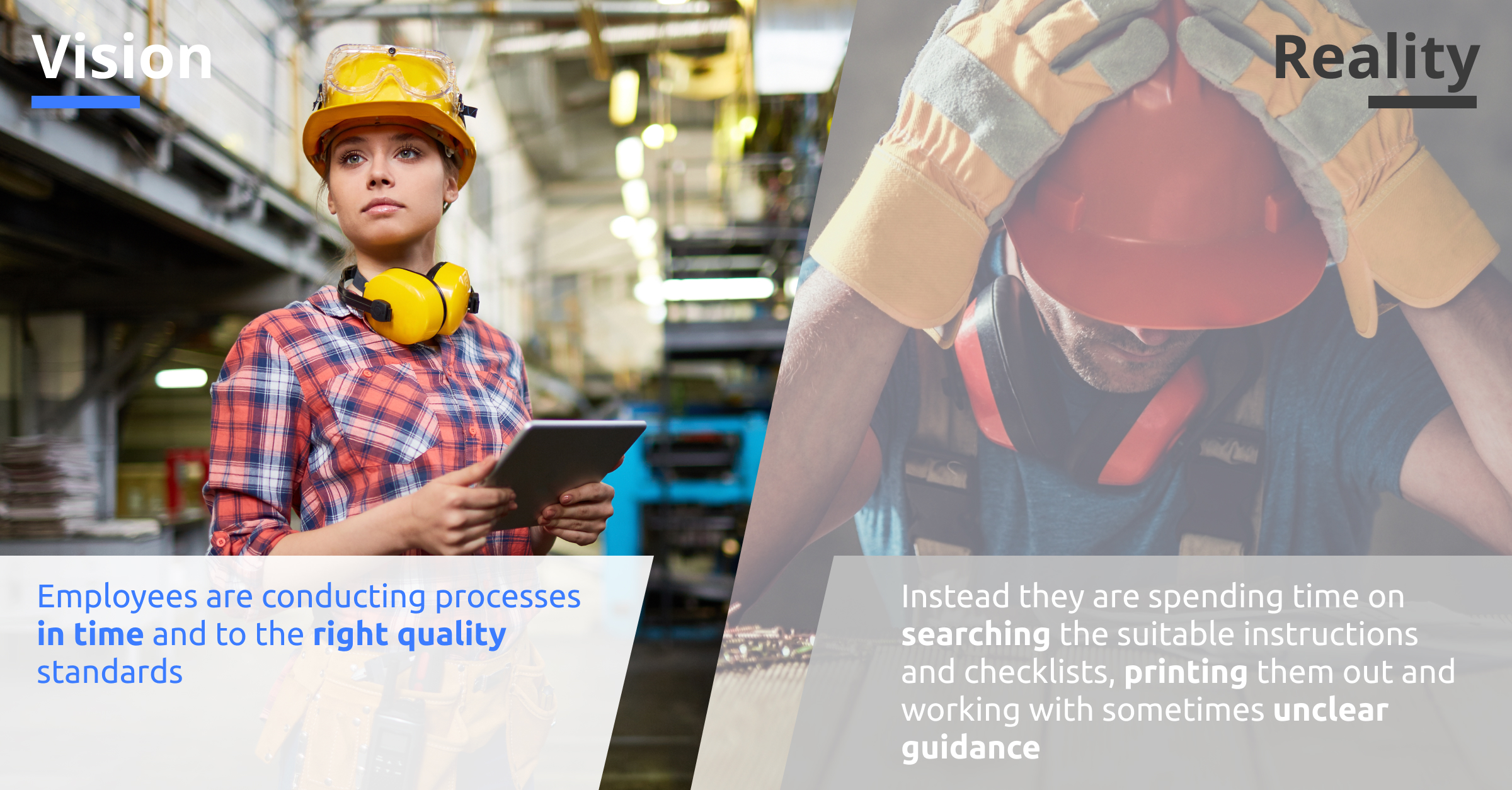 What contribution can technology make to reducing complexity?

In summary, work complexity and time pressure have increased for operational staff. At the same time, they work in operational isolation from planning and analysis IT systems. Therefore, technology providers, be they software companies or manufacturers of innovative hardware, must start here. Two dimensions make the difference:
Dynamic and media-enriched information provision

Connected work in real time
These two dimensions form the basis for adaptive processes. Let's go one level deeper in the following.
Dynamic and media-enriched information provision
Process information should first be provided dynamically to employees. By using intelligent data aggregation, information from different system levels is combined and provided to the employee related to situation, process variant and other environmental variables. In addition, various media such as 3D content, videos, images or augmented reality elements help to optimally support employees in complex processes. New or infrequently performed processes thus become comprehensible, and irrelevant information is hidden.
Connected work in real time
For effective work and a sustainable CIP, employees should be able to quickly exchange information horizontally and vertically and use the cloud in a structured manner for this purpose. A horizontal exchange of information between employees of the specialist teams enables faster problem identification and solution. Vertical information sharing between employees and managers enables on-site findings to be evaluated and processes to be managed in real time.
Even though a number of companies are no longer paper-based and already consider themselves paperless manufacturing, they often use systems that do not allow for easy data evaluation. The "gold of the 21st century," to which the value of data is regularly proclaimed, cannot be leveraged.
The two solution principles should be at the core of the solutions. This solution represents an entirely new category of technology. This category provides a holistic solution for a wide variety of industries and use cases. We call it Adaptive Process Execution (APE).
The paradigm shift: Adaptive Process Execution
In contrast to statically prepared information and rigid process chains, a diametrically opposed approach is needed. Process information should be dynamically selected, aggregated and prepared to make it as easy as possible for employees to understand and work in the operational process.
An approach that is not static and rigid, but adaptive.
Solutions that follow this approach of adaptive information provision and processing can be described as Process Execution Software.
Adaptive here are the information provision depending on the context, the process execution depending on what happens during the execution and the follow-up workflows depending on the results of the processes. While the employee needs a simple interface, the complexity must be solved in the background.
Adaptive Process Execution differentiates itself from existing technologies along the dimensions of information provision and the degree of connected working. In order to meet the challenges described above, software must facilitate a greater informational depth than connected worker software, function more "employee-oriented" than ERP and MES systems, and be more scalable than individual software.
What does this mean in concrete terms for production-related processes?
Because of the focus on the generic process, Adaptive Process Execution (APE) can be applied to all employee-led processes with a certain complexity. Less necessary for highly repetitive processes such as at assembly stations with a finely granular division of labor, APE is particularly relevant for processes in maintenance, assembly processes for single and small batch production, and quality inspection.
Inspection processes, for example, can use an adaptive solution to include a wide variety of input parameters in the inspection document. These can be ERP-based inspection points and reference values from an Excel file from SharePoint for example. Employees no longer have to search for this information from folders and drives during the work process; instead, the APE dynamically feeds these information into the check checklist.
As the check is performed, data is collected (manual inputs, automatic sensor readouts, captured failure images), processed in real time and addresses other workflows or third-party systems afterwards. Examples for these workflows are dedicated messages to the team or the storage of the information in the team sharepoint.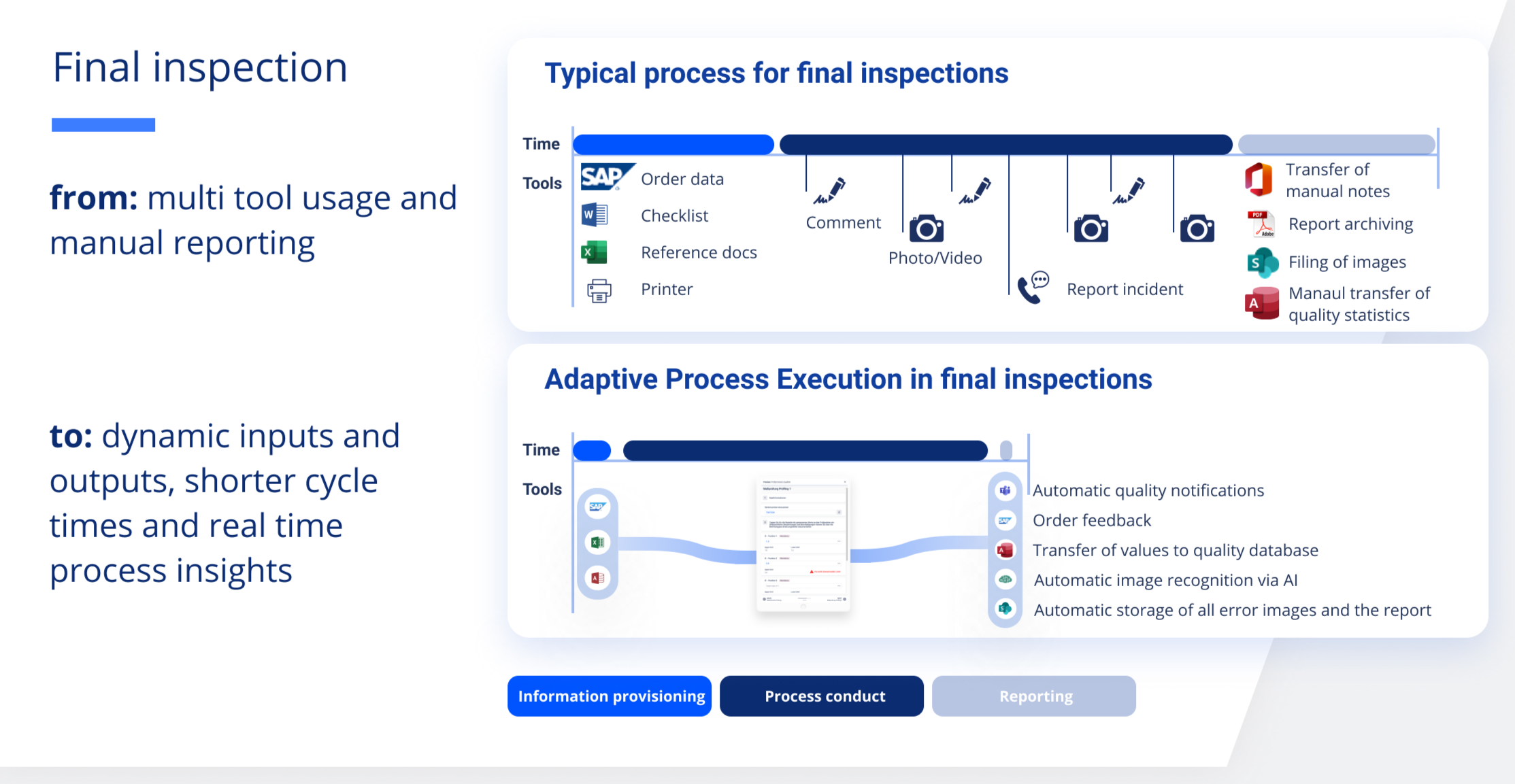 The paradigm shift means that the operational employee only has to deal with one tool, which greatly reduces complexity for him and controls the information flows. Processes can thus be carried out faster and, above all, more securely.
The race has begun
Nowadays, it is no longer enough to digitize more and faster. We are just learning together that new technologies make many things easier, but also create complexity. It is becoming increasingly clear that additional solutions are needed to actively reduce this complexity, especially in the production environment.
New solutions such as Onna (aggregating knowledge from different sources) or Power Automate (networking systems via drag & drop) show that great progress is happening in this software cosmos and that we are only at the beginning of this development. We can only make adaptive systems that aggregate knowledge and reduce complexity successful work under the following premises:
Open interfaces and no proprietary technologies are required at all system levels. This applies to software and hardware.

Software and system architectures should be flexibly expandable and interchangeable (microservices instead of monoliths).

Integration of adaptable standard software and no construction of individual software. Only with standardized software, adaptive solutions can be developed and adapted in the future.

There is a need for experts in companies who take on the topic of "adaptiveness". It is no longer sufficient to look at digitization only from the IT perspective.
We are collectively facing a new evolutionary stage of digitization in which everything can be implemented in a more open, standardized and adaptive way. It is now up to software users, decision-makers and experts to shape and accelerate the race for adaptive solutions.
Together with my team, we are doing our best to make a big contribution to this!
With digital work instructions and checklists, you increase efficiency and make better decisions. Read in our whitepaper how our software solution can help you!
Benjamin Brockmann
Co-Founder & CEO
benjamin.brockmann@operations1.com
Benjamin Brockmann (M. Sc., Management & Technology) founded cioplenu GmbH in 2017 together with Daniel Grobe (also M. Sc., Management & Technology). The founders developed the software solution based on various practical projects, including at the Fraunhofer Institute, and on their experience in industry, auditing and management consulting. Benjamin Brockmann has already worked for companies such as KPMG and Arthur D. Little.