In this blog article, I would like to briefly explain why Adaptive Process Execution as a software category represents a powerful alternative to dedicated HSSE software, individual solutions or paper-based checklists and process instructions. Read five hard-hitting reasons to use Adaptive Process Execution software for HSSE and production-related support processes.
What is Adaptive Process Execution?
Adaptive Process Execution is a category of software that guides employees through an operational process using context-based information delivery and embeds it in the digital organization. These two dimensions of context-based information delivery and embedding in connected work enable employees to focus on the intuitive execution of processes. Checklists and work instructions provide the digital foundation for organizing, executing and analyzing business processes.
What speaks for Adaptive Process Execution in the area of HSSE and production accompanying processes?
The abbreviation HSSE stands for Health, Safety, Security & Environment and refers to activities and processes at companies that serve to ensure health, occupational safety, security and environmental protection. HSSE, which is also known as HSE, EHS or SHE, is particularly important for manufacturing companies and in the energy sector. Companies have established comprehensive policies and processes around topics such as fire safety, safety briefings, risk assessments and more.
To preventively address personal accidents and production-related incidents, walk-throughs, plant tours or audits are conducted. Here, findings are documented, evaluated and measures for sustainable elimination are defined and followed up.
In contrast to historically used HSSE systems and other software, Adaptive Process Execution (APE) impresses with its high user-friendliness and integration capability. This leads to five central reasons for using APE in the area of HSSE and production-related processes such as 5S audits, cleaning checklists, shift handovers, walk-throughs and so on.
1. Acceptance by the workforce
2. Easy analysis of findings
3. Productivity in daily business
4. Secure integration of external teams
5. Global scalability
1. Acceptance in the workforce
HSSE teams need the support of the wider workforce to ensure that hazards are identified and addressed early. This requires simple and understandable checklists that can be intuitively completed during plant tours and audits. The integration of pictures and markings is often helpful for intuitive handling. The APE approach makes it easy to create these checklists, provide them digitally based on context, and then archive protocols automatically. The intuitive handling, for example in the direct integration of photos of findings, and the strong reduction of data transmission efforts increases the acceptance in the staff and thus the quality of the findings.
2. Easy analysis of findings
HSSE teams often face the challenge of evaluating paper-based lists and consolidating content. With APE software, statistical findings and individual findings such as documented photos or text comments can be evaluated globally with just a few clicks. The structural design of APE software enables continuous transparency from overarching statistics down to the findings of each individual process.
3. Productivity in daily business
The creation, updating, evaluation and archiving of HSSE checklists represent a significant effort driver for companies. If requirements and guidelines change, documents have to be modified and exchanged. In addition, it must be ensured that no outdated documents are left on the production floor. APE software's modular approach allows adjustments to be made centrally and updated for all employees via digital approval. This not only saves time for the HSSE teams, but also for the teams on site.
4. Secure integration of external teams
External companies often have to be involved in the HSSE area and in support processes accompanying production. While, on the one hand, up-to-date documents must always be provided, evidence of activity performance is central. HSSE teams receive a detailed overview of the activities of external teams. Functions such as the networking of employees, the creation of external users, and the automatic logging of interactions within the checklists and process instructions help in this regard.
5. Global scalability of processes
Compared to many lightweight software solutions for mobile documentation, APE software impresses with global scalability. The cloud approach, the use of modular elements in the checklists, and the organization of documents via structural classes enable global process standards and benchmarking across teams, sites, and countries. Through these comparisons, differences can be identified, best practices and measures can be derived, and ultimately HSSE metrics can be continuously improved.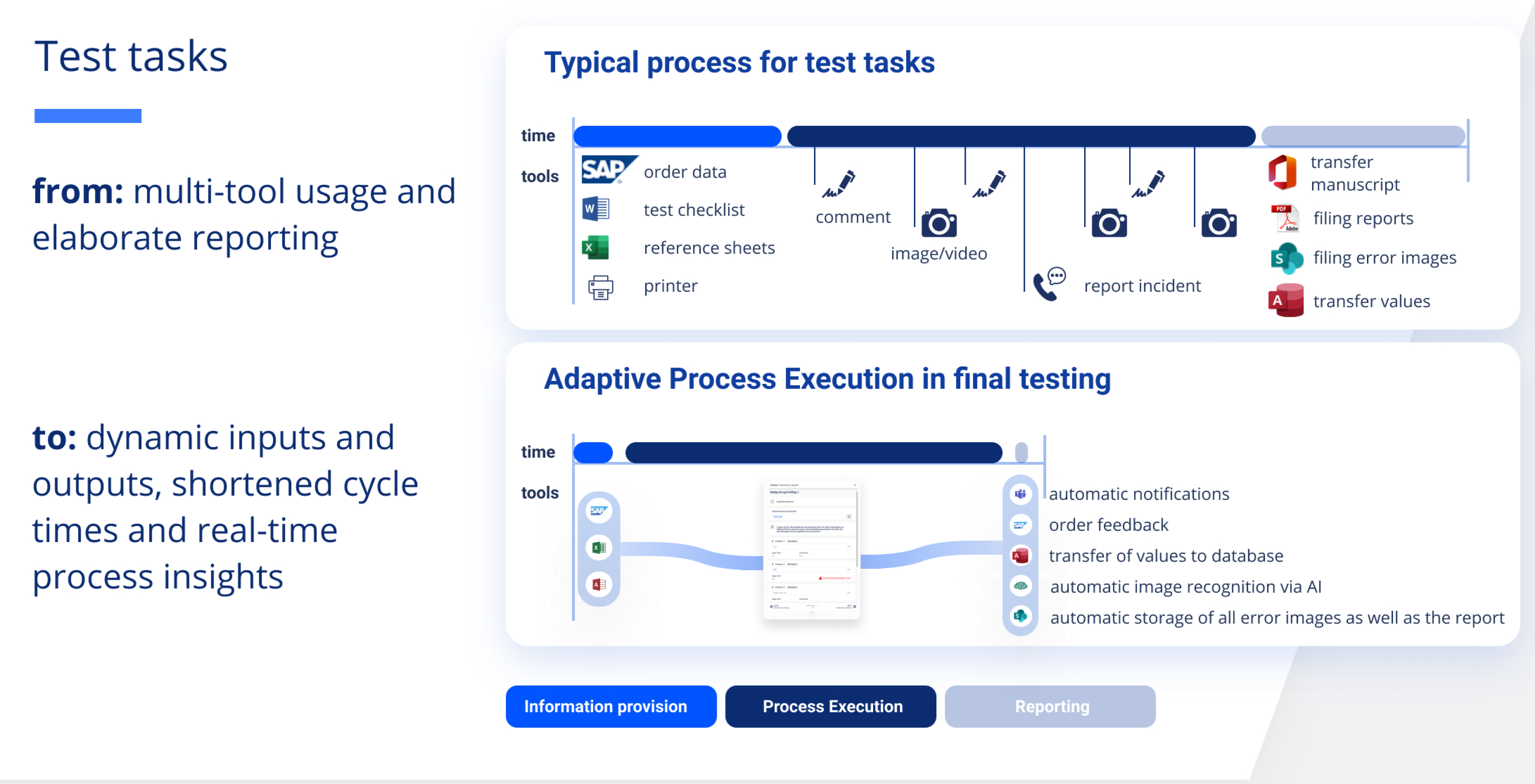 Adaptive Process Execution contributes to the democratization of HSSE topics
The above five reasons lead to HSSE audits becoming intuitive to perform and easy to evaluate. By democratizing these processes, industrial and energy companies can identify and preemptively resolve risks earlier, while dramatically reducing documentation efforts.
With digital checklists, you increase efficiency and make better decisions. Read in our whitepaper how our software solution can help you!
Moritz Stern
Head of Strategy & Marketing
moritz.stern@operations1.com
About the author
Moritz Stern is head of strategy and marketing at Operations1. Before joining Operations1, Moritz worked at Strategy&, PwC's strategy consultancy. Here he advised clients from the operations environment around the globe on strategic issues. Previously, Moritz worked for Alstom Power, Merck KGaA and Arthur D. Little. Moritz holds a degree in industrial engineering (M. Sc.).