This article takes a look at the challenges faced by manufacturing companies in mechanical and plant engineering in the area of quality assurance. In addition to quality control, the use case of outgoing goods control is also examined and inspiration is given for a rollout of a Connected Worker Platform (CWP) along the value stream.
Challenges in analog quality inspection processes
High effort in document management of test protocols and test checklists

Well developed and structured quality control documents are an important foundation for a professional and efficient quality assurance process. Often, there is already an enormously high manual effort involved here, since the documents for quality-relevant processes such as final inspection, goods issue inspection, etc. are created in different softwares such as Word, Excel, PowerPoint, or the like. In addition, updating the content and manual versioning is very time-consuming - anyone who has ever changed several images, tables, etc. in MS Office knows the adjustment or formatting effort.

Complex and time-consuming editing of maximum checklists

The desire of customers for individual machine solutions is not a new trend, and yet maximum lists are often the standard answer of many quality departments to the increasing number of variants and mapping of customer-specific machines. What simplifies things in document management complicates the execution of quality checks by the employees at the machine or plant: inspection points on maximum lists have to be compared with the existing machine model and customer-specific product, so not only valuable time is wasted due to unnecessary thinking tasks, but also a potential for errors in quality control and documentation that should not be underestimated: Information is misinterpreted by employees and activities are incorrectly executed as a result.

Media or system discontinuities in documentation and laborious data transfer

Especially when it comes to documenting findings, logging measured values and archiving inspection records, a wide variety of media and systems are commonly found in practice: findings are often recorded with a separate digital camera, measured values are handwritten - and in the worst case unreadable - on the paper document. At the end of the process, paper documents are digitized back into PDF form by scanning, digital camera photos are manually filed on SharePoint, and inspection values are manually transferred to Excel or a CAQ system - not only very laborious and time-consuming activities, but also manual and error-prone workflows.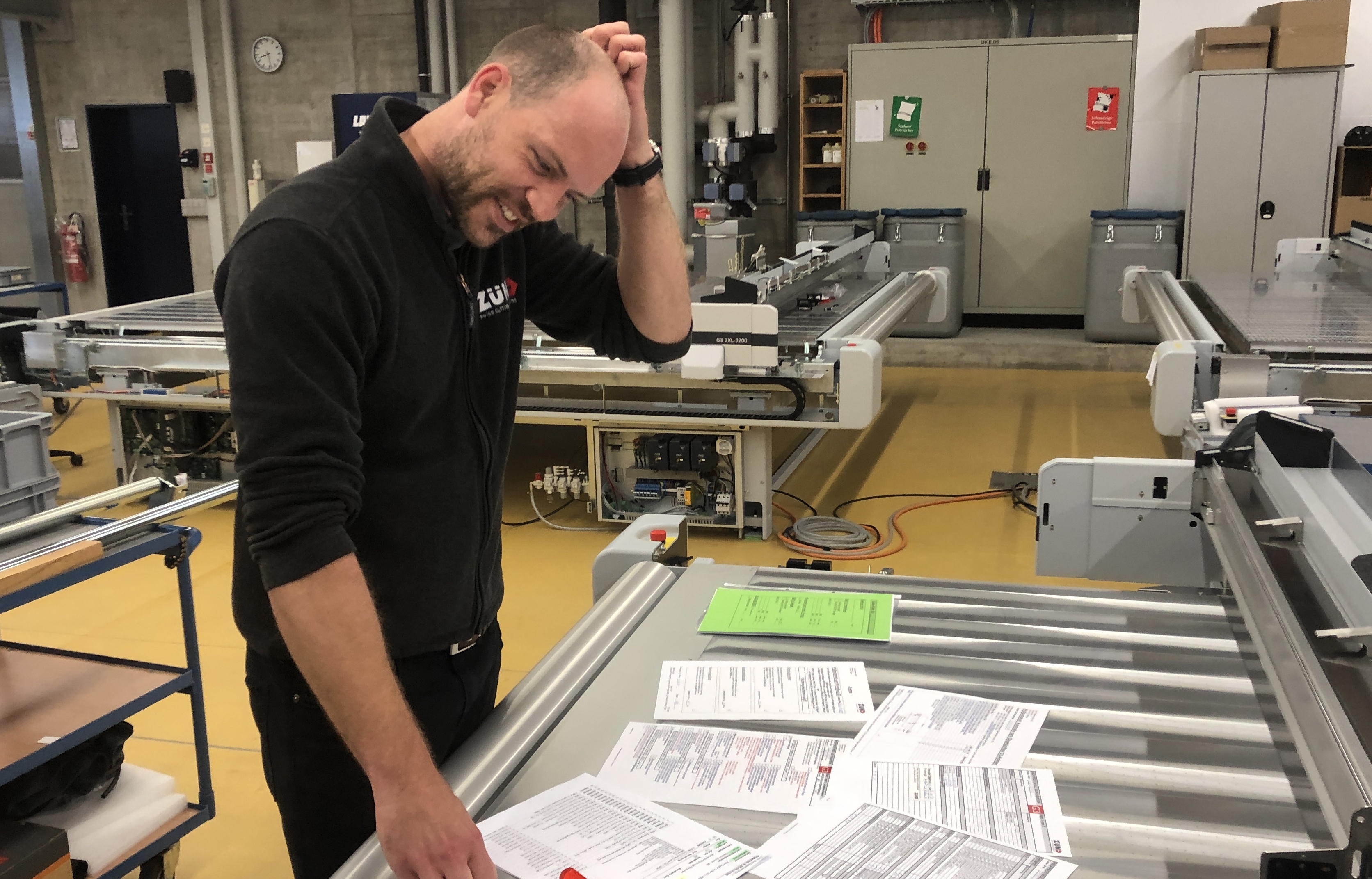 Quality inspection as a downstream process of plant assembly

Tending to be found less and less frequently, but still existing at some machine and plant engineering companies: Plant assembly and quality inspection are seen as process steps and areas carried out separately from one another. In this context, optimization potentials for the quick detection of defects or the solution of problems to avoid unnecessary later complaint costs are often not used.

Unsatisfactory documentation quality and lack of transparency

Paper-based control checklists often specify individual test steps, but do not verify the quality of the handwritten notes of component serial numbers, test results and measured values. As mentioned above, poorly legible handwriting, but also the possibly negligent deviation from the testing standard or from the predefined testing process, can lead to inadequate documentation results. This also applies to QA-related activities such as outgoing goods inspection, where, for example, employees document the preparation of the machine for shipment differently because there are simply no control mechanisms available on paper to ensure compliance with the documentation quality.

In addition, paper-based quality check processes do not provide quick access to process transparency or efficient component traceability, so that department managers or supervisors have to check directly with the quality control employee or in the analog order folder for the current status or any problems that arise.

High effort for data research and error analysis

If the sales or service department has queries about orders, for example in the case of customer complaints, analog archiving often means going to the archive and tediously leafing through the order or machine folder to find the evidence information they are looking for.
Error analysis can also prove to be cumbersome due to difficult traceability and media and system breaks, especially if, among other things, images or photos of findings were stored separately or printed out on paper in poor quality.
Lifting potential in quality assurance through digitization of employee-led processes
Simplified and centralized document management

Document managers can reduce maintenance and management efforts for QA documents by using a Connected Worker Platform (CWP): In addition to providing an intuitive document structure, media such as images and videos can be easily inserted and updated in documents. If the topics of versioning and approval process are important, a Connected Worker Platform offers the possibility that the approval of a document has to be done by a supervisor or other colleagues, for example. Changes in documents can also be documented and traced through a document history. Likewise, a CWP offers the possibility to manage all documents for several plants centrally in one software and to organize and release them clearly by means of structured classes like location, department, product, etc.

Creation and assignment of variant-specific test documents

By using modules that can represent variant-specific work steps and can also be maintained and updated centrally, a CWP makes it possible to create a variant-specific inspection protocol with just a few clicks. When creating orders, the documents specific to the model series for customer-specific machines or plants can thus be assigned and directly allocated to individual employees.

The full potential can be achieved by linking to an ERP or ME system, by automatically generating order or variant-specific orders in CWP based on order data, and by providing precisely fitting inspection checklists, etc. to the employees.
Reduction of the interpretation effort for employees and increase of process reliability

Providing variant-specific quality inspection documents represents one side of the coin for context-based information provision - the other side can be covered with a CWP by simply incorporating media: Instead of explaining complex information in whole text blocks, detailed information can be conveyed much more easily with images or explanatory videos and the interpretation effort can be reduced.

Furthermore, mandatory interactions, visual threshold checks and integrated conditions guide quality staff step-by-step through the individual inspection steps in a process-safe manner. This helps to increase overall process stability.

Increasing the quality of documentation

Since mobile devices such as tablets and smartphones, which usually have an integrated camera, are usually used when employees use a CWP, photos or videos of findings do not have to be taken separately, but can be taken/recorded and documented directly in the digital checklist. This means that there is no longer any media or system discontinuity and all information is bundled centrally in the software.

Not only can process reliability be increased through the previously mentioned mandatory fields, threshold value returns or automatic conditions, but also documentation quality, as employees are encouraged to carry out documentation according to predefined standards. Furthermore, through the connection to external sensors, measured values can be called up in the digital checklist at the push of a button, so that the documentation quality also increases when these test values are recorded and any documentation errors are avoided.
Increased process transparency and faster response time to problems

Connected worker platforms present the status quo of processes in real-time data. This gives department managers in particular the opportunity to obtain a good overview of current jobs and tasks. If problems or errors are detected by employees during quality checks, they can be quickly documented by the integrated incident management and corrective measures can be initiated promptly with the help of tasks and live chat functionality. As a result, unnecessary delays in the processing and throughput times of system components or machines can be reduced or even avoided altogether.

Integration of testing steps (worker self-inspection) already during plant assembly

Digitization projects often provide the trigger to rethink existing processes and optimize them in the context of digitization. For example, it can often be seen in practice that previously separate processes such as assembly and quality control are now interlinked in digital checklists. Digital assembly instructions with integrated worker self-inspection thus ensure that a quality check is performed immediately after each assembly step for machines and systems. This ensures that the quality standard is already met during plant assembly. Another advantage is that downstream quality checks can be carried out in a simplified form or even on a random sample basis, since a detailed check has already been carried out during assembly.

Automatic report generation and simplified research or error analysis

An enormous advantage of a CWP is the automatic reporting of the complete documentation of activities carried out. Since there is no need for analog folder archives at all, but instead the documentation is centrally stored in software, the search for and traceability of individual component serial numbers, for example, is more efficient and simpler.

Reports can also be exported as PDFs or saved to external drives through automation - report data can also be fed back to connected external systems. Often seen is that the obtained process data is exported to an external analytics tool to bring the process data together with data from other business units or product data. This enables machine and plant manufacturers to achieve the maximum for professional data-based derivation of improvement measures.
Quality assurance taken a step further: expansion along the entire value stream
A connected worker platform offers the possibility to integrate suppliers in upstream processes as well as external partners in downstream processes. This way, you can ensure that the incoming quality of e.g. parts and machine components is carried out according to your quality specifications through the use of your own quality checklists by suppliers. This could relieve the incoming goods inspection in your company: All shipments no longer have to be inspected by the supplier, but quality checks only have to be carried out via random samples. Why? The supplier has already ensured your quality standard in a transparently documented way due to the execution of his quality inspection and outgoing goods control according to your specifications in the CWP.
The same can be applied to delivery, assembly and commissioning at the customer's site, especially if your company works with external partners to assemble machinery and equipment in other countries. The work of your partners is fully documented, progress can be viewed remotely in real time, and service performance according to your specifications is guaranteed due to the use of digital checklists.
In economically challenging times, the digitization of employee-led quality inspection processes is increasingly becoming a decisive factor for machine and plant manufacturers to secure or even increase their quality standards. In addition to the optimization of internal inspection processes by replacing paper, digitization with a Connected Worker Platform offers further potential that should not be underestimated for setting the company's own quality standards for suppliers and external service providers. This not only makes it possible to achieve good cost efficiency along the value chain, but also to keep the quality promise to the customer along the value stream for a high level of customer satisfaction.
Markus Glotzbach
Product Marketing Manager
markus.glotzbach@operations1.com
During his professional career, Markus gained deep insights at companies and large groups in different industries and knows the digitalization hurdles and problems on the shopfloor. Before joining Operations1, he studied International Management (MA) and worked in the Cloud Computing as well as SaaS telematics sector.