Digital machinery and plant assembly: intuitive, efficient and seamless
As a manufacturer of complex machines and systems, you make a quality promise to your customers with your products. At the same time, you face challenges such as high competitive and cost pressure. That is why efficient, reliable and seamlessly documented assembly and testing is of paramount importance.
With digital assembly and quality control instructions in Operations1, you can meet these challenges.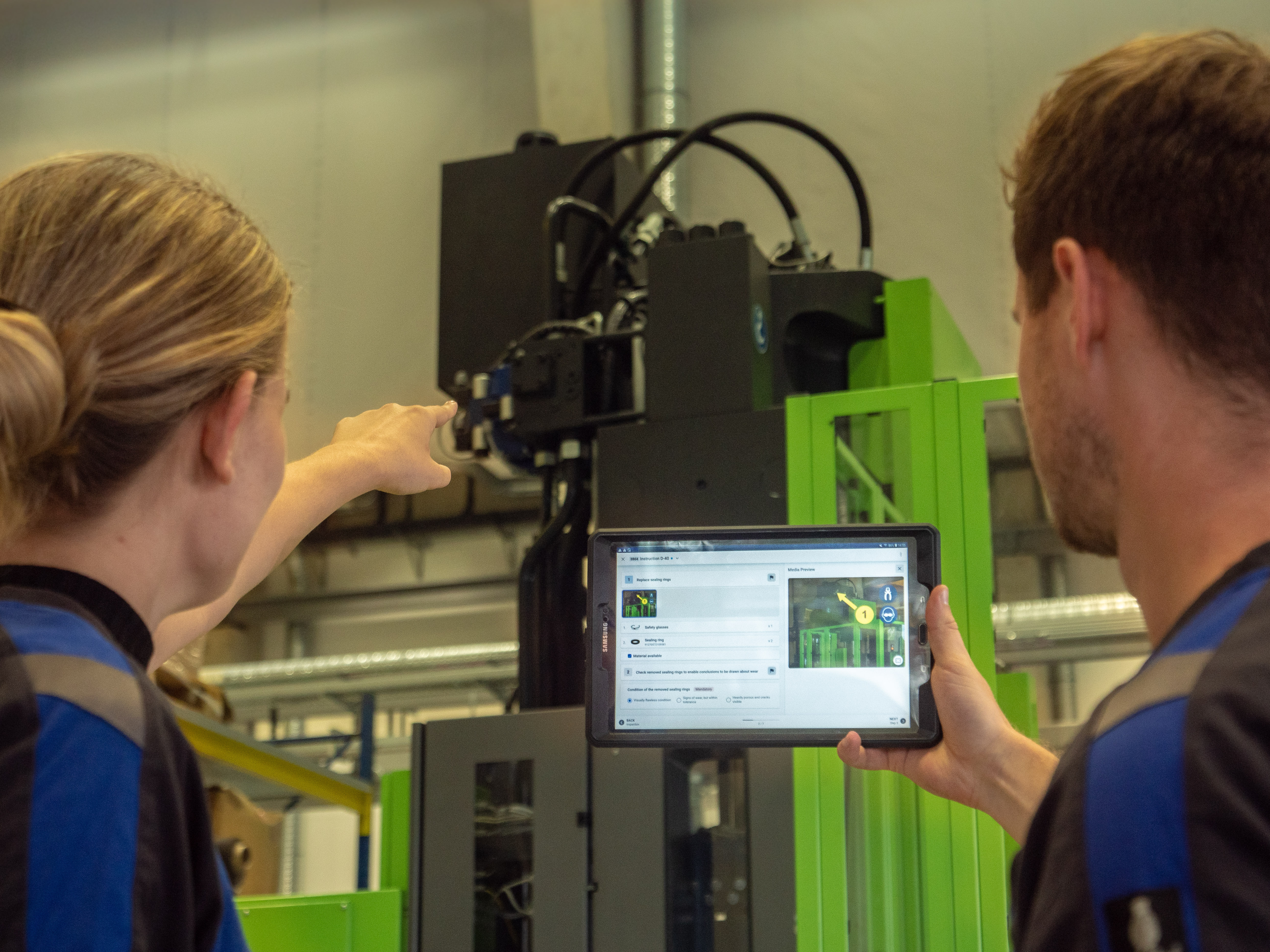 Market leaders trust Operations1 in machinery and plant assembly
Digital assembly and control processes
Instead of maximum lists, provide your employees with plant-type-specific instructions and checklists, which you can easily create and centrally organize using drag & drop, interaction functions, modules, etc.

Integrate control steps into assembly instructions and document serial numbers and product codes of your components by scanning directly Operations1. Automatically generated reports provide complete documentation of all assembly and inspection steps and enable reliable verification.
Work instruction
Image and video-based instructions for manufacturing and assembly. Establish processes through the flexible design.
Create without any code Create easy to understand instructions via drag & drop and embed images and videos

Perform processes reliably Deliver highest quality worldwide using multilingual software and work instructions

Digital training for employees Based on digital assembly instructions, employees can be trained more efficiently
Worker self-check
Efficient quality assurance through integrated worker self-testing in the assembly instructions.
Efficient self-check of workers Check off integrated checkpoints to save time during worker self-testing

Return images and videos Document quality findings via image, video or text and report back in real-time

Create and assign tasks Assign, monitor and solve problems via intelligent task management
Monitoring & analysis
Full transparency on progress and findings. Track your production orders at the operation level.
Seamless link to orders Create assembly orders or transfer them from the ERP and link them to instructions

Live-monitoring Monitor the progress of activities at any time in the dashboard and react faster to problems

Evaluate statistics and react Easily retrieve failure patterns, process times and quality statistics and make decisions
See how you can digitize your machinery & plant assembly with Operations1
Get to know the software in just 7 minutes
Get an overview of the functionalities and application areas of Operations1.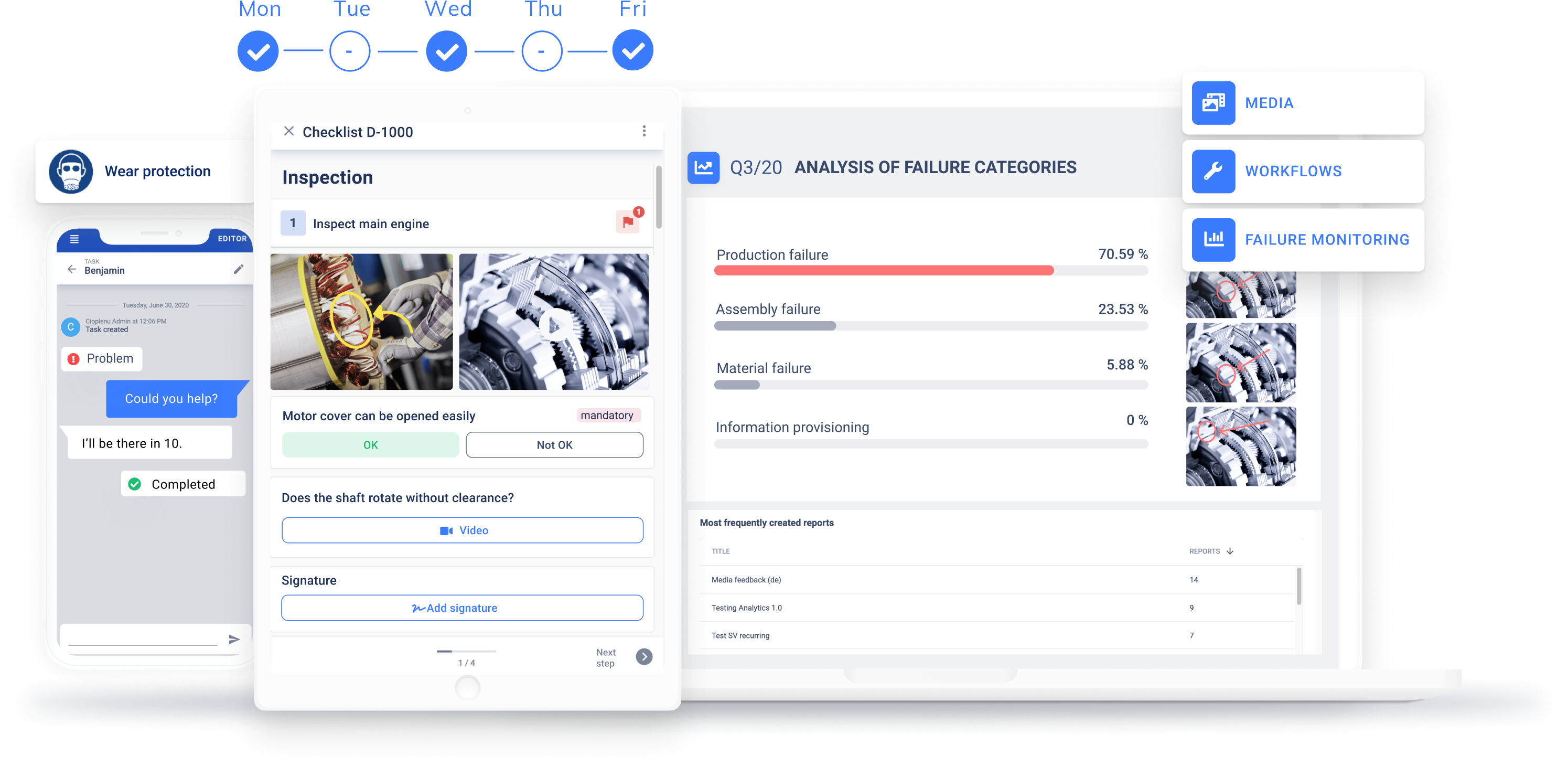 Digital machinery & plant assembly: 6 reasons for Operations1
Why do leading mechanical and plant engineering companies choose Operations1 to digitize plant assembly documentation?
Enormous industry expertise
Our dedicated industry experts at Operations1 work with 100+ leading companies from manufacturing day-to-day and are keen to support you.
Proven RoI
With every client, we jointly identify value drivers and collaborate on realization. We are happy to share our rich experience of successful implementations.
Broad functionality
Our comprehensive platform enables you to fully digitize operational processes from planning over execution to analytics.
Easy and risk-free start
Through the SaaS approach, you can start tomorrow without transformation projects and heavy implementation cost. Just get in touch with us.
Great collaboration
We aim to create long-term partnerships with our clients. Our service satisfaction of 99,5% and the splendid customer retention speak for themselves.
High Scalability
Our technical foundation and platform features are made for enterprise customers in order to scale across sites and geographies in an easy way.
Interested? Get to know Operations1 in a live demo
With Operations1, you can transfer any checklists, work instructions and inspection protocols into the digital world. We would be happy to show you the Operations1 functionalities for your individual use case in a live demo.
This is how a live demo works:
Arrange a briefing meeting Book an appointment directly using the form to the right and receive an invitation directly by e-mail.

Carrying out the live demo After the exchange, we will arrange a 30-45 minute demo appointment with you and guide you through the software.

Next steps After the demo you can test the software yourself or we will be happy to make you an offer directly.
Test steps already in assembly instructions allow us to use labor resources more flexibly.

David Berghold

Head of Quality Assurance, Tyromotion GmbH
Complete traceability of our individual components saves us a great deal of effort and time in research work.

Patrick Kofler

Quality Management, Hans Hundegger AG
Whether test values or scanned product codes: We now have a complete documentation.

Alexander Kunert

Head of Quality Assurance, MCRT GmbH
We have both increased the audit safety and reduced the effort for documentation.

Cyril Maurer

Head of Production and Test Bench, Soudronic AG
The digital documentation provides us important insights, so we can react better and faster.

Thomas Adamek

Head of IT & Qualitymanagement, Nabertherm GmbH
Easy-to-understand and clear test instructions facilitate the work of our employees.

Stephan Wagner

Head of Quality and Project Management, BBW Lasertechnik GmbH
Paper checklists are simply no longer up to date. They simply do not fit into the 21st century.

Dr. Alfons Hätscher

Chief Financial Officer, Hirschvogel Holding GmbH
Summary: Digital machinery and plant assembly with Operations1
The provision of assembly instructions with integrated worker self-testing as well as the complete documentation of process data in Operations1 can realize many advantages for your machinery and plant assembly:
Reduced effort in work preparation and for the employee

High customer confidence through complete documentation

Simple verification through automatically generated digital reports

Quality assurance and higher process reliability

Subsequent defect image analysis for deriving CIP measures